Inmates - 2017: Still Setting Up New Lab at Freie Universitaet Berlin...

Robin did his undergraduate and graduate studies in genetics, computational biology and philosophy (totally shows) at the University of Freiburg in Germany. He then did his postdoc at Baylor College of Medicine in Houston and was Assistant Professor and Associate Professor with tenure for more than 8 years at UT Southwestern Medical Center in Dallas. After 15 years (!!!) in Texas and a life with no fast food, no TV, no gun and no right to vote, he is currently bewildered by his new home, Berlin, Germany.

Lab Manager and Technical Assistants


Postdocs


Graduate Students
Our Chemical Engineer-turned-Biologist who wants to image and model brain wiring!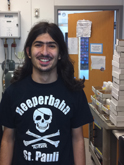 Neset wants to become a master of brain culture.... whatever that means...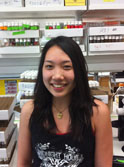 Jen is a graduate from Reed College in Portland, Oregon.
She's decided to solve the synaptic maintenance problem and is the new boss on all things rabs....



Alumni
Marion Langen PhD, former Postdoctoral Fellow, now PostDoc with Altschuler/Wu Lab at UCSF
Ossama Khalaf MS, former Masters Student, now PhD student at the EPFL in Lausanne, Switzerland
Chih-Chiang Chan PhD, former Postdoctoral Fellow, now Assistant Professor at National Taiwan University
W. Ryan Williamson PhD, former Graduate Student, now Postdoc at Janelia Farm, Laboratory Dr. Card
Adam Haberman PhD, former Assistant Instructor, now Assistant Professor at University of San Diego
Sunil Mehta MD PhD, former Resident and Research Fellow, now at UCLA with Dr. Larry Zipursky
---
Freie Universitaet Berlin - Takustr. 6 - 14195 Berlin, Germany